At Camp Conquest, we believe that a week of summer camp is the best tool for evangelism and discipleship available to the church today. We engage volunteers and paid staff to help children and teens develop into the leaders of tomorrow with a focus on serving their community for Christ. We seek to Change Lives and Be Changed!
New Applicants: Fill out the Interest Form at the bottom of this page to begin a conversation with Sarah, our Program Coordinator. We would love to talk with you about joining our team this summer!
Returning staff: skip the Interest Form and go directly to the Staff Application. Application period opens January 1, 2023.

Summer 2023 Paid Staff Details
Salary: Weekly salary, plus option to fundraise additional financial support.
Dates: June 9 – August 5, 2023 (1 week staff training plus 7 weeks camp). Optional pre-camp work week May 31-June 7. Can't commit to the whole summer? Apply anyway and we can discuss your options. A minimum of 4 weeks of camp, plus training week is required to be paid.
Time Off: Usually Friday evening to Sunday morning.
Commuter vs Residential: Most positions require staying overnight at camp throughout the week.
Meals and Lodging: Both included, for free!
What else to expect:
Counselor and activity area training necessary for fulfilling your role.
Multi-generational ministry experience (campers as young as 7 and volunteers as old as 90).
Encouragement through prayer, teaching of the Word, and worship.
Peer-to-peer discipleship with other Summer Support Staff team members.
Paid Staff Positions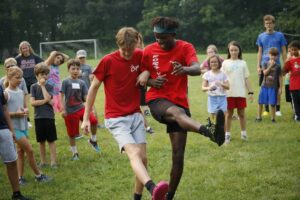 Internships
Our positions and programs are flexible to meet the specific requirements of your internship. Once camp has been accepted as an internship location, let us know the requirements and we will work with you to make sure you have the opportunities needed to complete them all. Required hours are easy to fulfill and camp offers great hands-on experience. In past summers, we have helped students complete internships who were studying Youth Ministry, Pastoral Ministry, Worship Arts, Sports Management, and more.
Additional Helpful Information:
Clearance Outline – Instructions on how to obtain items needed before working at camp
Summer Staff Interest Form for New Applicants