At Camp Conquest, we believe that a week of summer camp is the best tool for evangelism and discipleship available to the church today. We engage volunteers and paid staff to help children and teens develop into the leaders of tomorrow with a focus on serving their community for Christ. We seek to Change Lives and Be Changed!
Camp Conquest hires close to 25 college students each summer to serve as our Support Staff. This team consists of guides (counselors), activity instructors, coaches, and coordinators. Each role has specific functions and responsibilities, which you can learn more about by clicking on a position link. Fill out the Interest Form at the bottom of this page to apply for a position. We would love to have you be a part of our team this summer!
Summer 2022 Dates
June 1-10 – Pre-Camp Work Week
June 10-17 – Training Week
June 19-July 23 – Day Camp & Overnight Camp
July 31-August 6 – Day Camp & Rental Group
August 7-21 Rental Groups (Additional paid weeks by invitation)
Paid positions require a commitment to being at camp for at least 5 weeks in addition to the training week.
Staff Position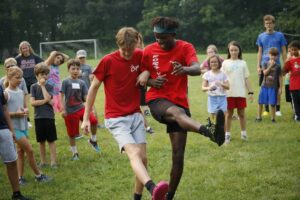 What to Expect
Weekly salary provided by camp plus a support letter for raising additional financial support.
Room and board provided for all weeks of your position.
Counselor and activity area training necessary for fulfilling your role.
Multi-generational ministry experience (campers as young as 7 and volunteers as old as 89).
Encouragement through prayer, teaching of the Word, and worship.
Peer-to-peer discipleship with other Summer Support Staff team members.
Investment in you by year round staff and volunteers.
Internships
Our positions and programs are flexible to meet the specific requirements of your internship. Once camp has been accepted as an internship location, let us know the requirements and we will work with you to make sure you have the opportunities needed to complete them all. Required hours are easy to fulfill and camp offers great hands-on experience. In past summers, we have helped students complete internships who were studying Youth Ministry, Pastoral Ministry, Worship Arts, Sports Management, and more.
Summer Employment Interest Form