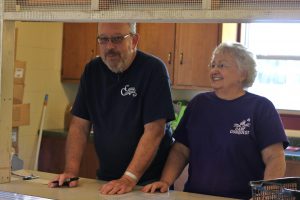 Randy and Linda Bunnell
Campers love a visit to the camp store. It is not just for the candy and soda. The store is staffed with Camp Grandparents who love on our kids. When a camper goes to the store at camp this is often the first time they are able to make decisions about their money without their parents supervision. Guidance and suggestions from Grandparents help the campers spend their money wisely.
Randy and Linda have been involved at Camp Conquest for a long time. Randy was on the crew that built the Red Cabins in the late '70s. Today, Randy serves on the board and helps Tim with many maintenance projects around camp. In addition to helping the camp store, Linda helps in the office and is on the team that take care of the flowerbeds around camp.