Session 2-3: June 26-July 8, 2022, boys ages 13-14
Session 4-5: July 10-22, 2022, boys ages 13-14
NOTICE: Campers are expected to return home Friday Evening at 6pm and return to camp Sunday at 3pm each weekend.

REAL men, a program for young men ages 13-14, is a two week camp experience in pursuit of a life framed by integrity of heart and skill of hand.
This program gives young men the opportunity to work hard, play hard, and the freedom to ask challenging questions about the Biblical worldview and authentic manhood. Framed by Psalm 78:72, this program will combine hard work with honest conversation.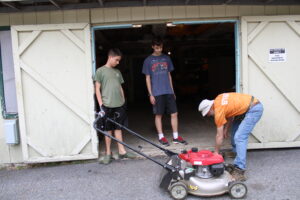 Is your son asking questions about the faith? Could he benefit from hard work? In this program he will be introduced to REAL men who:
Reject passivity
Expect a greater reward
Accept responsibility
Lead courageously
At Camp Conquest we believe that the path for REAL men is found in scripture and can be modeled by a community of men at camp. Join us for the launch of this new program, June 26-July 8 and July 10-22, 2022. Sign up now for one or both sessions, Limited Enrollment.
2022 Prices for a two week session of REAL men:
Tier One: $530
Tier Two: $475
Tier Three: $420